Welcome to the FUTURE, where the PROBLEMS OF THE FUTURE, is officially TODAY!!
Also, happy belated new year!
I've always wanted to do something for pixel day these past few years, but every time I remembered - it was already too late. Not hours or days; sometimes it'd slip my mind for weeks, even months! So this time, I got my act together for pixel day...
Yeah right, I wish.
It's not a full-fledged game, artwork or animation, but still I managed to do SOMETHING this year. Behold! It's a spritesheet of our very own Pico!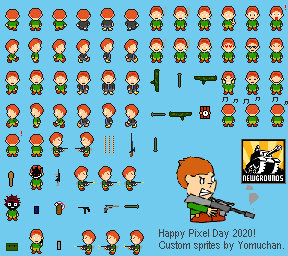 Comes complete with alternative costume, poses, weapons, items, a bazooka and more!
I used to do this kind of thing a lot back in the early 00s, so working on this was kind of nostalgic. Who knows, you could find it to be of great use.
I should make a sheet for Darnell, Nene, the goth bunch and the uberkids next.
-----------------
So what else have I been up to?
Well, between comically failing two exams, trying to work on projects, and then dealing with some mad outtakes at work that fall right into 'HOW NOT TO RUN A BUSINESS 101' territory, not much. I did make a new years' resolution to get gud in Japanese and finish N5 this year.
I'm not sure how well I'll do since I failed on that last year; but hey, 20% is at least something. I'll keep at it.
Now I have to go and get my act together.
Get my act together...
Get my act together...
Get my act together...